JCWK Dance Lab 
Creating Joy, Connection, & Wellness through Kinesthetic stories
JCWK Dance Lab is an ongoing research project combining education, physical dance practice, and performance. Using dance as its medium, JCWK Dance Lab investigates the ways that dance can be a vehicle for non-violent, positive social change by creating Joy, Connection, and Wellness through Kinesthetic stories.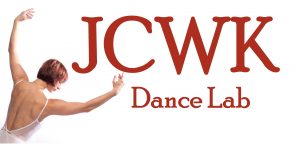 Jessica C. Warchal-King, described as a "post mod(ern) ballerina" by the Philadelphia Inquirer, is a performer, choreographer, educator, and arts advocate. She is the director and founder of JCWK Dance Lab and the blog "Fieldnotes".
Jessica was a senior dance artist with the internationally recognized modern dance company, Kun-Yang Lin/Dancers (KYL/D), from 2010-2017. She also was a founding member of the regionally recognized contemporary ballet company, Nora Gibson Contemporary Ballet, from 2009-2016. With both companies, Jessica has toured nationally and internationally and has performed at some of the premier dance venues in the US. She has also performed for and collaborated with many independent choreographers nationally and internationally. Her choreography has been presented in venues throughout Pennsylvania, New York, New Jersey, the Washington DC area, and Virginia.
Jessica is the co-founder and curator of the KYL/D's InHale Performance Series, one of Philadelphia's longest running performance opportunities for emerging and established artists. Jessica leads the dance program at Widener University and is an Artist in Residence in Dance Alvernia University. She also developed and teaches Dance for Wellness at the Tower Health System/Reading Hospital.
Jessica is currently the Managing Director for the Arts Series at Alvernia University. She also held various administrative positions at KYL/D from 2009-2017, including: Assistant to the Directors, CHI MAC Operations Coordinator, and Community Liaison.
Jessica's writing has also be published by the Journal of Dance Education, DanceAdvantage.net, and PhiladelphiaDance.org.
Jessica received the Part Time Faculty Award for Teaching Excellence from Widener and a Rocky Award from the Philadelphia Dance Community.
She earned her MFA in Performance and Choreography from Temple University, where she was awarded a Teaching/ Research Assistantship, a Dance Scholarship, and the Temple University Rose Vernick Award for Artistic Transformation. Jessica earned her BA in Dance and Anthropology from Muhlenberg College where she received the Dance Leadership Award and was the Assistant to the Director of the Muhlenberg Community Dance Center. Jessica is also a trained instructor in Dance for PD – a program developed by the Mark Morris Dance Group to bring dance to people with Parkinson's Disease, a Power Pilates Mat I & II Certified Instructor, and a Reiki practitioner.
Additionally, Jessica enjoys delighting in the discoveries of her son and the shifting temper of the ocean. She digs into the (sometimes surprising) talents and gifts of her community and creates safe spaces from which these can be shared.