Contemporary Dance Class/ Workshop for Adults
When: Tuesday, August 7 & 14 from 5-7pm & Sunday, August 19 from 12-2pm
Cost: Pre-registration $15 – register online here . Drop in $20
Class Description: Contemporary Dance Movement Practice (for Adults) explores principles of somatics, energetic awareness, and performance practice with contemporary concert dance foundations and techniques. Participants will be challenged to find freedom within structure, story-tell with their movement, create connections between dance and "everyday life," and (re)discover joy in their dancing body. Previous experience with a movement practice (yoga, Pilates, martial arts, or other form of dance) is highly suggested, but not necessary; an open heart and mind is always welcome and appreciated. Click here for more FAQ's.
Dance for Wellness at Tower Health/ Reading Hospital (on going classes)
When: Every Monday from 11am-12pm
Where: Tower Health/ Reading Hospital Rehabilitation at Wyomissing
Cost: $5
No previous dance experience necessary!
Previous Events in 2018
Little Things – 6 Soloists Performing Dance and Poetry
Created by Brandi Ou, Jessica C. Warchal-King, Rhonda Moore, Grace Stern, Maria Guzman, and Nikolai McKenzie. "Little Things" explores the vast and dynamic elements that constitute the relationship between mother and child. Through movement, sound, and poetry, six artists peel back layers of their personal maternal stories. Runtime is 45 min.
When: Saturday, June 23rd at 2pm & 4pm
Tickets: $10 suggested or pay what you can. Proceeds will be donated to Mary's Shelter – an organization in Reading, PA that supports pregnant women and new mothers who are "in need of a supportive environment because of lack of suitable housing or favorable family relationships". Seating is limited. To reserve your seats, email Jessica@JCWKDanceLab.org.
Please plan extra time for parking and traffic. The performances will start promptly and late audience members won't be admitted.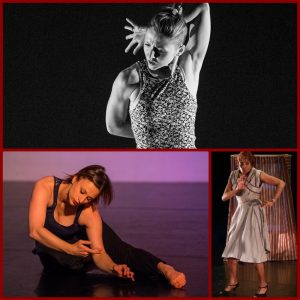 When: March 25th at 1pm
Where: Drexel University's Mandell Theater
What: Jessica created a new work on the members of Berks Ballet Theatre
KYL/D's InHale Performance Series
When: May 11th & 12th at 7:30pm
Where: KYL/D's CHI Movement Arts Center, Philadelphia, PA
Cost: $10 ticket link coming soon!