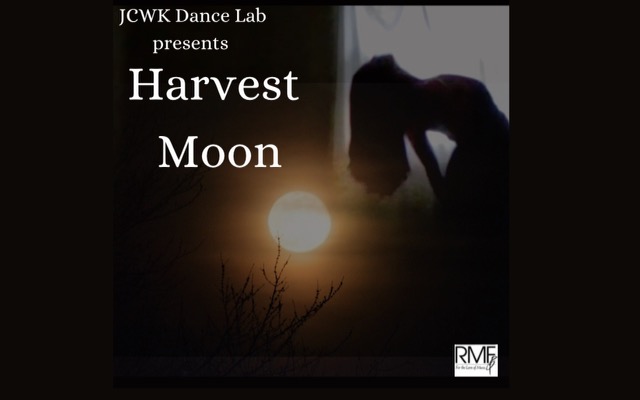 September 18-26, 2021
Harvest Moon is an evening-length, virtual, new music and dance collaboration premiering in conjunction with the astronomical calendar's Harvest Moon. Dancers and musicians employed the serendipitous and unpredictable nature of the internet to engage Zoom as a compositional and choreographic tool. Harvest Moon reflects on lunar cycles, cultural anthropology, the spiritual philosophy that human bodies are microcosms of the universe, and the Covid-19 pandemic. The project will be live-streamed over YouTube with audience engagement opportunities through Zoom after each performance. Dr. Phillip Tietbohl will lead an interactive Group Poem Creation after three performances; Dr. Nathan Thomas will moderate a more-traditional artist/audience talk back after three performances. Dance performance by Sarena Kabakoff, Kalila Kingsford Smith, and Jessica C. Warchal-King. Music by Jill Haley and Paul Fejko. The Reading Musical Foundation supported Jill Haley's work in Harvest Moon.
Tickets: Sliding scale. Although the event is now closed, please contact Jessica for a private showing. No one will be turned away for financial reasons.  Email [email protected] for more information.
Credits:
Artist Bios (in alphabetical order by last name)
Paul Fejko. Provocative, Challenging and Iconoclastic, Paul Fejko has always been quite fond of extremes. He can often be found treading on the boundaries of accepted limits and traditions. Art is exploration and provocation; improvisation is a wonderful vehicle for both. He is often chastised for mixing improvisation into repertoire ('taking too many liberties'), but it seems a one way comment; never has there been a charge leveled against the reverse – adding repertoire to improvisation Fej finds the pipe organ to be his favorite solo instrument. It can muster more power and subtlety than an entire orchestra while having a responsiveness impossible from a large group of people. He is constantly challenging (often to the point of annoyance!) people to shed their preconceived notions of the organ as merely an instrument of religion, and to realize that in the first half of this century almost every movie house and many concert halls had organs. A good pipe organ is a virtuoso instrument of vast capabilities! Fej divides his time among many endeavors, most notably with theater and dance as a composer and conductor, but also as a concert organist and pianist.   To this one must add his work as a sound and lighting designer, photographer (the covers of three of his  ARKAY releases – Incantation, Tyme's Escape and OUTBURST!), audio systems designer, auto mechanic and sometime sculptor (witness the cover of 'On Making the Flowers Dance' – designed by Fejko with flowers by Gretchen Ernest. He has been the long-time musician at historic Gloria Dei (Old Swedes') Church in Philadelphia, PA and is a musician with the Dance and Theatre departments at Muhlenberg College in Allentown, PA. In 2003 he founded and is now the Artistic Director of 'The Chester Performing Arts Project', a foundation dedicated to bringing world class performing arts to the formerly depressed industrial city of Chester, PA. His André Café Acoustique in Chester is becoming well known in the region. Fej is a product of The Curtis Institute of Music (class of '75) where he studied with Alexander McCurdy, Rudolf Serkin and Max Rudolf.
Jill Haley is an oboist, English horn player, pianist and composer who visits National Parks in the United States, often as an Artist in Residence, and composes music about the Park while living there. Montana's Glacier National Park was the inspiration for her 1st recording of music about a National Park. After a visit there, Jill came home and found herself creating the amazing visual scenery in a musical sense at the piano. She decided to share the visual aspect of her music in concerts, and this led to a video of the images that inspired each piece as it is presented in concert. She continues to share live concerts highlighting the different Parks with video of the images that led to the music. After recording her 2nd album, "Zion and Bryce Canyon Soundscapes," she decided to apply to be an Artist in Residence at a National Park. Her first residency was at Mesa Verde National Park where she lived in a hogan style building while exploring the Park during the day and creating music at night. The album resulting from this residency won the ZMR "Best Piano with Instrumentation" award in 2015. During the National Park Centennial year, 2016, Jill released "National Park Soundscapes," which is a collection of pieces about 12 National Parks celebrating the centennial year. The music highlights parks from Acadia to Zion including a piece written during her 2nd residency at Badlands National Park. She presented concerts of this music at National Parks and other venues throughout 2016. 4 of her pieces were arranged for English horn/oboe solo with Concert Band and were presented in concert with the Ringgold Band. The pieces have now been arranged for solo horns with orchestral accompaniment and are being presented in the  summer of 2021 by the Berks Sinfonietta. Glacier National Park invited her back in 2016 to do a month Artist in Residency. The writing was truly effortless during Jill's time there; she found so much to write about in this amazing place. This residency led to "The Waters of Glacier," her 5th recording about a National Park. In 2017 Jill spent 2 weeks in Wrangell/St. Elias National Park in Alaska as an Artist in Residence. This incredibly remote location afforded her an opportunity to explore an amazing Park, but more importantly introduced her to local folks who live in such a place. The people as well as the place affected her composing style while living in Alaska. The Winds of Badlands recording was released in 2019, and this recording gained the #1 spot on the ZMR monthly reporting for the most airplay, as did several of her previous albums. Jill's National Park recordings also receive regular airplay on Sirius/XM Satellite Radio and numerous music services. After spending October 2019 living in Bandelier National Monument, New Mexico, Jill spent 2020 recording her musical impressions of this place. The release date for this recording is February 2021. Her most recent Artist in Residency was at Big Cypress National Preserve in Florida in November 2020, and afforded her the opportunity to explore and create music about yet another land/waterscape. Jill is an artist on the Spotted Peccary label and they will be releasing her first ambient recording with founder/ artist Deborah Martin, The Silence of Grace, in April 2021. She continues to appear as a guest artist on many recordings done at Will Ackerman's Imaginary Roads Studio, including 2 of Will's guitar releases. Her English horn and oboe lines are also heard on many recordings produced by Corin Nelsen. Jill rounds out her musical career as a symphonic orchestra player, a teacher, and church musician
Sarena Kabakoff started her dance training at the age of 8, attending Berks Ballet Theater. Throughout high school she performed multiple times a year in the local Nutcracker, and at dance festivals across the state. She went on to attend college at Temple University, where she had the pleasure of performing with Megan Mizanty, Laura Katz Rizzo, and Janis Brenner and Company. She also interned with Dance Therapist Teresa Benzwie to teach special needs children academics through movement. She graduated Magna Cum Laude in 2013, receiving the Benzwie Dance in Education grant for her extensive work with children. After college she went on to dance with Philadelphia based companies including; Jenkintown Dance Company, PIMA group, and FRED Dance Company. Sarena received her 200 hr yoga teacher training, and went on to receive an additional 75 hr training with Shiva Rea, and an advanced anatomy training with Alex Auder. She started to teach yoga at many Philadelphia studios, as well as offering mindfulness at corporate centers such as; David's Bridal and New Age industries. She also taught dance at the Conservatory of Music and Dance, Jenkintown Dance Arts, Beth Jacobsen School of Dance, and Imhotep Charter School . Her passion for dance also carried her to do outreach programs, using dance/yoga as a vehicle for healing at Safe Harbor (a program for grieving children), and in the greater Cancer Support Community. She most recently attended an Expressive Dance Therapy program, Tamalpa, in Northern California. Since then she has been touring her yoga/dance therapeutic workshop, Unpacking the Body, in and around the Philadelphia area, as well as dancing for the band, "The Retinas," in their music video wretched time. She has performed with JCWK Dance Lab since 2019. Sarena is passionate about movement's capability to heal, to show us the stories we've been hiding from, and to move us forward into our own inner light.
Kalila Kingsford Smith is a Philadelphia native, independent choreographer, performer, and dance educator. She builds dances that are responsive to the characteristics of the performance space, whether a theater, a museum, a nature trail, or a Zoom call. Informed by her training in modern and contemporary dance, her movement flows between tension and release, momentum and suspension, improvisation and composition, and storytelling and abstraction. Her choreography has been commissioned for Drexel Dance Ensemble, Dancefusion, and Gwendolyn Bye Dance Center, and she has independently produced and performed works throughout Philadelphia. As a dance educator, she teaches courses in modern dance technique, improvisation, choreography, dance history and theory. Kalila is a writer and editor with thINKingDANCE. She received an MA in Dance from Temple University and a BFA in Dance and a BA in Cultural Anthropology from the University of Michigan. She is also a certified Pilates instructor.
Dr. Nathan Thomas serves as program director for Alvernia University Theatre. His background includes extensive work as a professional actor and director as well as international study. As an actor, Nathan has given more than 500 performances in national tours of such plays as: Barefoot in the Park, I Ought To Be In Pictures, Same Time, Next Year, Chapter Two, Plaza Suite, and Educating Rita. He also performed with the National Theatre for Children. As a director, Nathan has mounted a variety of plays and musicals and worked as Artistic Director of Repertory Theatre of America. One of Nathan's specialty areas is Russian theatre history. He studied at the Vakhtangov Theatre in Moscow under Arkady Katz, People's Artist of the Soviet Union. Nathan has taught at the University of Central Oklahoma, the University of Iowa, Michigan State University, and Centenary College of Louisiana. Currently, Professor Thomas enjoys being a company member of the Chesapeake Shakespeare Company — an innovative, professional company based in Baltimore. With CSC Thomas has played Prospero (Tempest), Dogberry (Much Ado About Nothing), Peter Quince (A Midsummer Night's Dream) and Argan (The Imaginary Invalid).
Dr. Phillip Tietbohl is an international poet-performer who entertains those he meets along the way with the aim to brighten their day.  He delivers interactive, poetry performances for all ages in libraries, schools, nursing homes, and clinical trainings for professionals with the creation of a group poem a key part of each event, resulting in a new moment in time, told in rhyme.  With a BS in Mechanical Engineering from MIT and a Doctorate in Clinical Psychology from UVA, Dr. Tietbohl is a problem solver, from Bio-Systems Engineer on a Flying Eye Hospital to Licensed Psychologist, helping clients reach their potential to crafting custom poems resulting from chance encounters.  His poetry has transformative aspects that reflect positive, therapeutic themes and approaches and his work has appeared in an anthology, magazines, newspapers, and many locally, self-published books and booklets.  When not penning poems or performing, he is making bread, fascinated by everyday encounters with nature, taking short hikes, and laughing and sharing time with family and friends. He can be reached at:  [email protected] Website:  https://www.PoetryThatWorks.com
Jessica C. Warchal-King, described as a "post mod(ern) ballerina" by the Philadelphia Inquirer, is a performer, choreographer, educator, and arts advocate. She is the director and founder of JCWK Dance Lab and the blog "Fieldnotes". In addition to her own work, Jessica has performed for and collaborated with many independent choreographers nationally and internationally. Jessica was a senior dance artist with the internationally recognized modern dance company, Kun-Yang Lin/Dancers (KYL/D), from 2010-2017. She also was a founding member of the regionally recognized contemporary ballet company, Nora Gibson Contemporary Ballet, from 2009-2016. With both companies, Jessica has toured nationally and internationally and has performed at some of the premier dance venues in the US.  Her choreography has been presented in venues throughout Pennsylvania, New York, New Jersey, the Washington DC area, and Virginia. She has set over 60 works on college and university students and professional and pre-professional dancers. As an educator, Jessica was a Visiting Assistant Teaching Professor of Dance at Drexel University (2019-2020). She led the dance program at Widener University (2013-2019). Jessica is a Lecturer and Artist in Residence in Dance at Alvernia University. She also developed Dance for Wellness for the Tower Health System/Reading Hospital. She was the Managing Director for the Arts Series at Alvernia University. Jessica co-founded and curated of the KYL/D's InHale Performance Series (2008-2019), one of Philadelphia's longest running performance opportunities for emerging and established artists. She also held various administrative positions at KYL/D from 2009-2017, including: Assistant to the Directors, CHI MAC Operations Coordinator and Community Liaison. Jessica's writing has also be published by the Journal of Dance Education, DanceAdvantage.net, and PhiladelphiaDance.org. Jessica received the Part Time Faculty Award for Teaching Excellence from Widener, a Rocky Award from the Philadelphia Dance Community, residencies from PhiladelphiaDance.org, Lafayette College, and Widener University, and grants from the Pennsylvania Council on the Arts, Philadelphia Cultural Fund and Berks Arts. She earned her MFA in Performance and Choreography from Temple University, where she was awarded a Teaching/ Research Assistantship, a Dance Scholarship, and the Temple University Rose Vernick Award for Artistic Transformation. Jessica earned her BA in Dance and Anthropology from Muhlenberg College where she received the Dance Leadership Award and was the Assistant to the Director of the Muhlenberg Community Dance Center. Jessica is also a trained instructor in Dance for PD – a program developed by the Mark Morris Dance Group to bring dance to people with Parkinson's Disease, a Power Pilates Mat Certified Instructor, and a Reiki practitioner. Additionally, Jessica enjoys delighting in the discoveries of her son, the shifting temper of the ocean, and tiny-camping adventures. She digs into the (sometimes surprising) talents and gifts of her community and creates safe spaces from which these can be shared.
About JCWK Dance Lab
JCWK Dance Lab is an ongoing research project combining education, physical dance practice, and performance. Using dance as its medium, JCWK Dance Lab investigates the ways that dance can be a vehicle for non-violent, positive social change by creating Joy, Connection, and Wellness through Kinesthetic stories.
About the Philadelphia Fringe Festival
The Philadelphia Fringe Festival is a 4-week long, city-wide celebration of innovation and creativity in contemporary performance. Each September, the Festival explodes into every nook and cranny of Philadelphia with more than 1,000 artistically daring performances, including national and international performances curated by FringeArts, and works produced by hundreds of independent artists. 2021 marks the 25th annual Fringe Festival, which runs September 9—October 3. For more information, visit http://FringeArts.com/2021FringeFestival 
Thank you to…
Alvernia University's Fine and Performing Arts Department
Alvernia University's O'Pake Institute for Economic Development & Entrepreneurship
FringeArts
Reading Musical Foundation
Reading Theater Project
Drs. Peter and Judy Warchal
Justin and Tristan King
all of the artists, scientists, and collaborators involved
and… you!
Poems created during the audience engagement event: